What To Watch On This 2X Leveraged ETF (NUGT) As Gold Miner Merging Season Kicks Off
Direxion Daily Gold Miners Index Bull 2X Shares NYSE:NUGT spiked up over 5% at one point on Tuesday.
The short-term rally was in tandem with the S&P 500, which temporarily surged higher between 12:40 p.m. and 12:55 p.m. in a bullish response to Jerome Powell starting a question-and-answer session at the Economic Club in Washington, D.C. By 1:30 p.m. both NUGT and the S&P 500 had retraced the move higher in its entirety and the S&P 500 printed a fresh low-of-day.
Spot gold began trading in a sharp uptrend on Nov. 4, 2022, and on Jan. 4, the commodity regained the 200-day simple moving average (SMA) as support. Regaining that important bellwether indicator was bullish and the commodity continued upwards in its trend until topping out at the $1,959.74 mark on Feb. 2.
In contrast, NUGT, which usually trades in tandem with spot gold, topped out on Jan. 25 at $46.04, preceding spot gold's bearish reversal.
Whether or not NUGT will continue lower in its new downtrend and enter a bear cycle, or if the ETF is attempting to backtest the 200-day SMA and reverse upwards from the level, has yet to be seen. Mergers and acquisitions have started to take place among gold miners, however, which is generally bullish for the sector.
On Monday, it was announced that Newmont Corporation NYSE:NEM submitted a non-binding proposal to acquire 100% of the issued share capital of Australia-based Newcrest Mining Limited. Traders and investors are hoping the news will kick off a series of mergers and acquisitions among gold miners to lift the sector higher.
NUGT is a double-leveraged fund that is designed to outperform the NYSE Arca Gold Miners Index by 200%. The ETF tracks several gold and silver mining companies, with Newmont Corp, Barrick Gold Corp NYSE:GOLD and Franco-Nevada Corp NYSE:FNV making up 31.56% of its holdings.
It should be noted that leveraged ETFs are meant to be used as a trading vehicle by experienced traders, as opposed to a long-term investment. Leveraged ETFs should never be used by an investor with a buy-and-hold strategy or those who have low-risk appetites.
For traders wanting to play the gold mining index bearishly, Direxion offers Direxion Daily Gold Miners Index Bear 2X Shares NYSE:DUST.
Want direct analysis? Find me in the BZ Pro lounge! Click here for a free trial.
The NUGT Chart: NUGT negated its uptrend on Feb. 1 by printing a lower high at $44.99 and on Monday, the ETF formed a lower low, which confirmed a downtrend is in play. If NUGT continues to trade lower over the next few trading days, the high-of-day on Tuesday will serve as the next lower high within the trend.
If NUGT falls again on Wednesday and Thursday, the ETF may find support at the 200-day SMA and print a reversal candlestick, such as a doji or hammer candlestick, at that indicator. If NUGT falls below the 200-day, a longer-term bearish cycle could be on the horizon.
The recent pullback into a downtrend has allowed NUGT's relative strength index (RSI) to drop from about 68% to 42%. When a stock's or ETF's RSI nears or reaches the 70% level, it becomes overbought, which can be a sell signal for technical traders.
Traders who are bullish on the gold mining sector will want to watch for signs the current pullback on NUGT is coming to an end and a bounce is on the horizon. The ETF could be forming the handle of a cup-and-handle pattern, which would be bullish if NUGT eventually breaks up from the downward-sloping channel that makes up the second part of the formation.
NUGT has resistance above at $41.31 and $44.32 and support below at $37.68 and $33.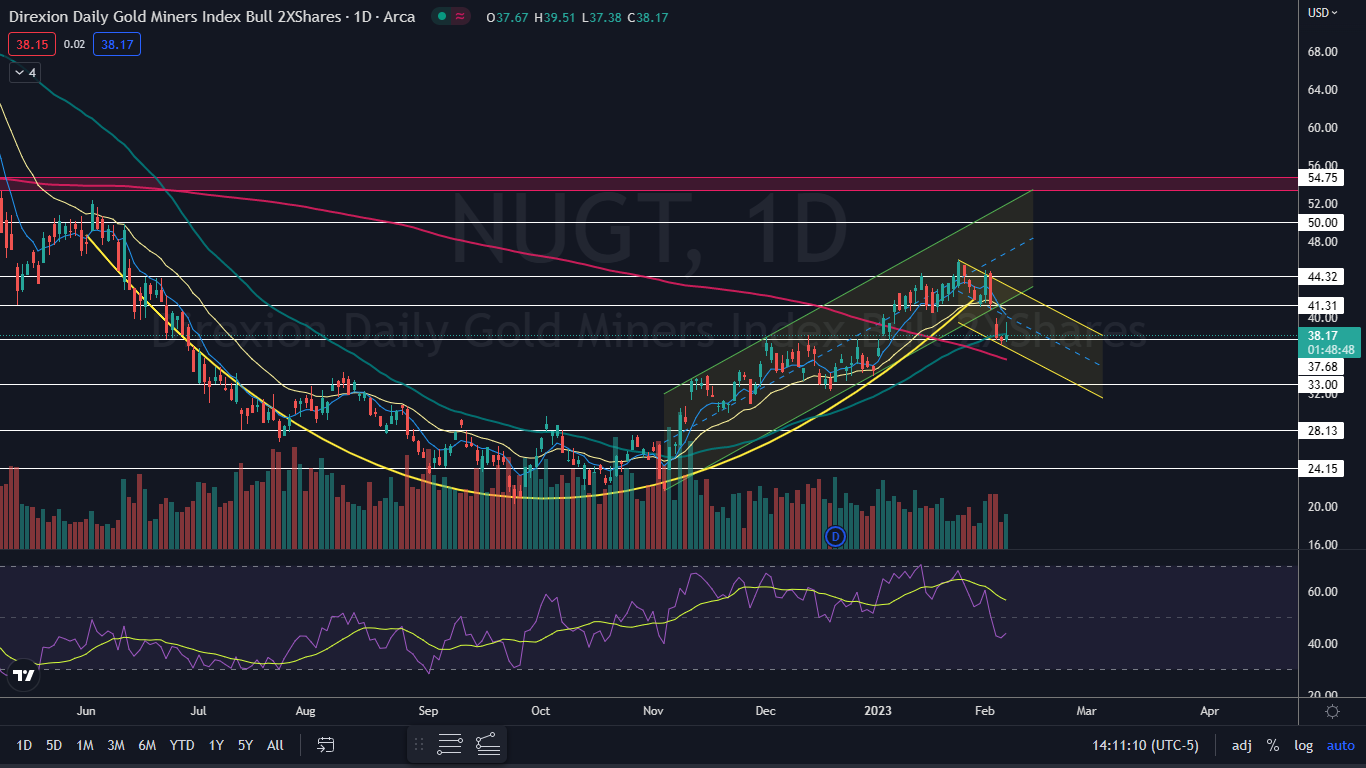 Read Next: Gold Slipped Down
Photo: Shutterstock